This special project is coming to a close. I'm glad this product, which was ahead of it's time,  was able to make it's long awaited come back to take many Nissan 4×4 builds to the next level. However, as we all know, the nissan 4×4 niche is only so big. Based on the demand of these adapters, even after many years, has been slow and is unlikely to make another come back.
There are ony two 2004+ 4.0/5.6L kits on the shelf ready to go, with the ability to build 3 additional. 1990+ 3.0/3.3L kits can be assembled in higher qualities, however, when those are gone.. they will be gone as well.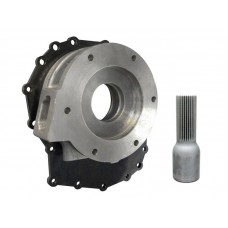 This adapter allows the replacement of the stock transfercase with a deeper geared aftermaarket option.
$750.00
I hope those of you that were pushing for these to be made have been recieving these project updates this year, and will be able to get one before they are gone. If you know someone who is interested, please forward this e-mail to them so they can respond to me directly via e-mail, the website contact form, or by phone at 909-547-4651.
I enjoy special projects like this from time to time. If you see a need for niche product in the off road space.. let me know, maybe I'll make it happen.
Thank you,
-Steven Lutz
Rugged Rocks